VMD360 Fingerprint Development System
---
Description
Formed in 1993,West Technology, The world's largest and professional forensic VMD products supplier and is  committed to use the specialist knowledge of vacuum technology and  passion for vacuum engineering, to create new, exciting products for use by forensic providers.
VMD is regarded as the most effective fingerprint development technique used by fingerprint experts in world wide criminal forensic laboratories.  The technique could be applied to treat non porous, semi porous and porous exhibits, It is especially used to develop fingerprints from challenging evidence such as aged samples, buried samples, wood, evidence submerged in water for long time, even fired cartridge casings, knife and other metal evidence recovered from arson etc
VMD Can be used to target areas for touch DNA Analysis!
VMD products World Customers

Application
Forensic fingerprint development
 Highlight Features
The world's first bench top sized Forensic VMD system
No Warming needed, quick application
One button operation for automatic chamber pump down and vent
Full color, touch sensitive 7" HMI control screen with Intuitive menu driven control screens for ease of operation
Coating area 660x285mm
Supplied with flat plate and semi-cylindrical work holders
Generously sized vacuum chamber – W 360 mm (14.17″) x H 360 mm (14.17″) x D 300 mm (11.81″)
Low running costs – only atomic layers of metal required in each process run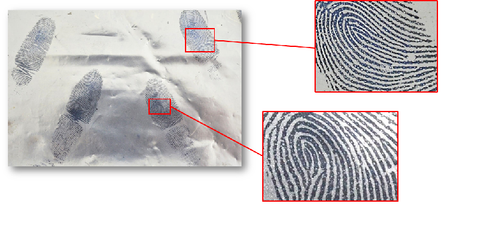 Developed Fingerprints on Polystyrene Black Bag

Fingerprints Developed on Different Tapes

Developed Fingerprints on cardboard and banknote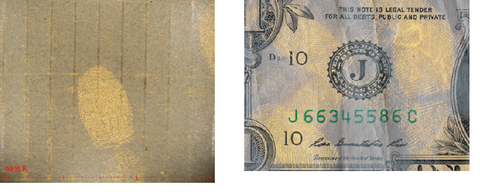 Developed Fingerprints on cardboard and banknote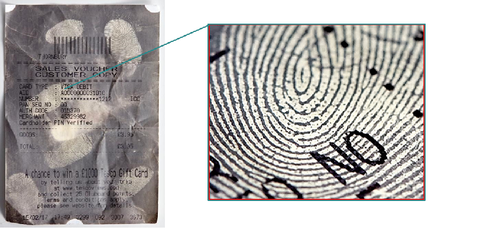 Developed Fingerprints on Thermal Paper
---
Share this Product
---