DeHao PAM3 Portable Authenticity Magnifier
---
Description
DeHao-PM3 is a express authenticity verification for  passports, banknotes, ID and other documents with security features.  It could also be used as portable questioned document examination device.
Application
Bank
Immigration

Forensic
Archaeology
Features Highlight 

* Module discrete Design for visual magnification and security features examination
* Could examine flat and curved surface , Special designed concave camera adaptor can
   easily fit all shape objective surface to get the best focus result.    
* Powered by USB port
* Software module for image preview, Image processing/measurement and annotation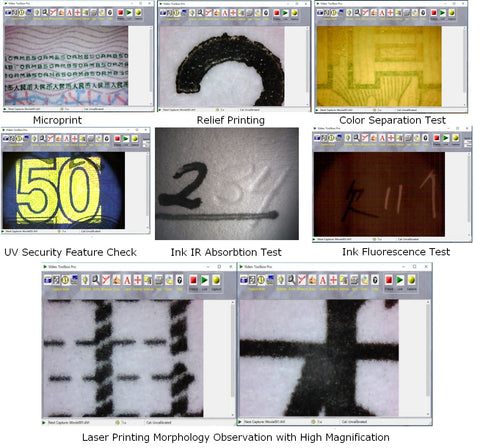 Specifications
Magnification 40x and 140x

Image Pixels: 1920 x 1080

Frame rate: 8 frames/second (up to 30 frames/second at reduced resolution)

Power: USB 2.0 port

Working distance- 1-inch away with about a 1-inch field of view

Resolution: 2 microns

Light source: High color temperature  white LEDs

Field of view:

@15x: 17 x 22.7 mm
@40x: 8.1 x 10.1 mm
@140x: 2.3 x 2.9 mm

Light source: White、365nm、450nm、500nm、760nm、850nm
Filter Wheels camera long pass filter:  490nm, 550nm, 565nm, 610nm, 670nm, 700nm, 760nm, 850nm
COMPUTER REQUIREMENTS
Minimum system requirements:
Intel i5 (4th generation or higher)
Windows 7/8/10
USB 3.0 Port (supports USB 2.0 port at lower level performance)
2+ GB of Free Memory
Video card with 128 MB of video RAM
Minimum 1280 x 1024 resolution at 16-bit color 
Video ToolBox PRO PC Software included
MAC Software optional (MiTools on Mac App Store)
Click HERE to get Product list brochure.
Fingerprint & Shoeprint Science Product Brochure
---
Share this Product
---