DeHao PM3| Portable Microscope| Multi-band Fluorescence Imaging Device
DeHao-PM3 is a portable digital microscope is special designed for the application of forged and altered documents examination, authentic identification of currency and banknote, identification of antique calligraphy and painting, authentic identification of trade mark etc.. High optics magnification/high resolution imaging system/6 band LED light source with 8 filter selection/ imaging processing function give you the best image quality and powerful analysis capability, portable design and easy operation make the MP3 more closed to the application requirement of  first line.
 Key feature:
* 40x and 140x optics magnification selection plus 3M pixels imaging 
   system  
provide
 high resolution up to 1.7 microns
* Build-in multi band LED light source include white, UV, blue, blue/green
   and IR
* Camera filter wheel stage with 8 filters ensure the finest examination
* 1cm focus adjustment range, special designed concave camera adaptor can
   easily fit all shape objective surface to get the best focus result.
* Lightweight, small footprint, easy to be carried
* Handheld operation, can easily conduct the analysis on special shaped
   objective like surface of cylinder..
* Powered by USB port, no special power needed
* Special image capture software to achieve dynamic observation and image
   capture
* Image processing/measurement and annotation
* Support wireless data transmission and app program, easy connect to
   external device like mobile phone and Tablet.
* External light source adaptor windows could use other external light source
   like transmission/incident light  
Specifications 
Image sensor: 1/3" CMOS
Pixels: 2304 x 1536
Frame rate: 24 frames/second (up to 60 frames/second at HDMI)
Power: USB 3.0 port (USB 2 port with reduced frame rate)
Working distance- up to 1 inch away from your object with about a 1 1/2 inch field of view.
Light source: White、365nm、450nm、500nm、760nm、850nm
Long pass filters :490nm, 550nm, 565nm, 610nm, 670nm, 700nm, 760nm, 850nm
Resolution: < 1.7 microns
Field of view: @40x: 8 x 10 mm
@140x: 2.3 x 3 mm 
Dimension: 7x6x4cm (H x D x W)
Minimum PC requirements:
Intel i5 (4th generation or higher)
Windows 7/8/10
USB 3.0 Port (supports USB 2.0 port at lower level performance)
2+ GB of Free Memory
Video card with 128 MB of video RAM
Minimum 1280 x 1024 resolution at 16-bit color 
Video ToolBox PRO PC Software included
MAC Software optional (MiTools on Mac App Store)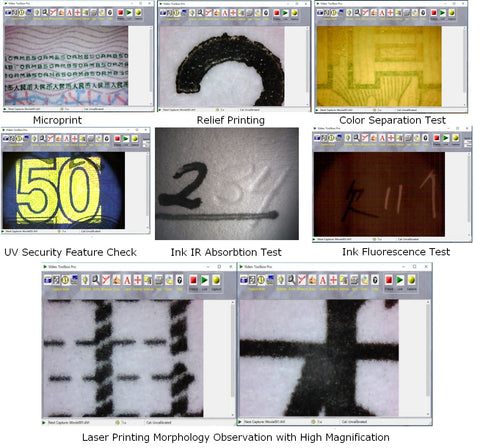 ---
Share this Product
---