Intelligent Bionic Cooling Vest for High Voltage Electric Operation
---
Description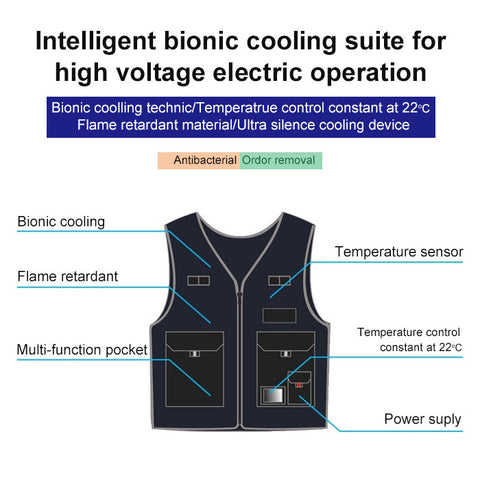 Provide a cooling environment for the people working in high temperature.
This product uses an ice pack as a cooling source to maintain 1.5 hours cooling time through the temperature control regulator (could extend the cooling time by changing the ice pack).  A constant temperature can be controlled to 25°C, this could be helpful to improve the working conditions of the operators and improve work efficiency. The vest use flame retardant material to improve the safety for the people working under high voltage.
Key Features:
Flame retardant material to improve the safety
Retro reflective materialsto achieve 360 degree reflective visibility, reflectivity could reach 700+ to ensure the visibility and safety in the night.
The Velcro design on the front chest and back could be used to paste logo plate like police Badge and bugle for quick identification.
Multi-purpose hanger on the front chest could be used to hang duty gear(walkie-talkie, lighting tools etc.)
Large pocket at both side for tools carrying
Waist elastic adjustment design can be freely adjusted according to the comfort of the human
Ultra silenceelectronic pump, low noise, large flow, small size. Cold water outlet flows from the right to the left through the pump and circulates continuously. The connector is a reverse joint, which is simple and convenient to assemble.
---
Share this Product
---