DeHao AB8000 Handwriting Quantitative Analysis System
---
Description
AB8000 is the world's first instrument for quantitative analysis of pen tip pressure distribution along the stroke and pen tip tilt angle , a breakthrough method for assisting forensic document examiners for challenging signature analysis such as fewer pen strokes, high level simulated signature.

Forensic handwriting analysis is NOT only a pattern-based science that examines significant, repeated handwriting characteristics in questioned writing comparing with known writing. With quantitative measurement of handwriting , it will help to increase the identification accuracy.
Application
Forensic 
Bank 
Medical Research 

Education
Product Highlights
Automatic control with extreme accurate measurement
Supporting analysis the whole signature or any stroke
Unique accurate by using advanced techniques to guarantee the accuracy of measurement,

Including Variable focus microscopy -Semi Dark Field long range ring light -Extreme flat document plate -Vacuum system with more than 4000 evenly distributed low profile holes -Automatic motorized 12x zoom micro - scope -A 250x300mm motorized XY system moves the microscope across the document with high precision and speed. -3D-topography calculations used to measure multiple indentation points

Analyze the correlation coefficient between multiple sets of data by the comparison of the   stroke depth and pen holding angle characteristics.
Generate 2D and 3D images and report of the data/spectrum of the original material Micro characteristics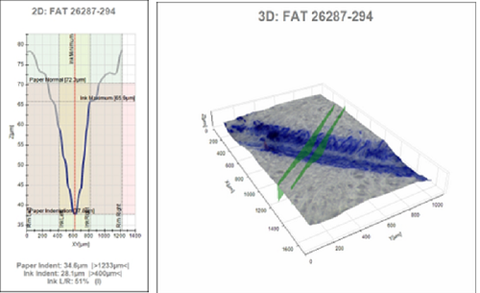 Measurement of Ink Depth Indentation

Laser printing document Toner thickness measurement
( Canon8200C, 635C and HP M225 toner thickness distribution
with Red, Blue and Green curve)

Pen tip pressure distribution chart along the stroke for two reference signatures
Bar Chart for Pen tip Indentation depth distribution 
Pearson correlation coefficient Excel sheet demonstrates the known and specimen writing
Specification
 

Full motorized XYZ and Zoom

Software controlled automatic movement for imaging and

X-Y movement range 300x300mm, 5micros/50mm

Z axis movement range 0-50mm, Resolution:2.5 micros

Zoom range:43-863x

Camera resolution

6.0 Million pixels with frame rate 25f/s

Vacuum system

The vacuum is made by a vacuum pump positioned in a double damped floating  suspension system, minimizing the vibrations to less than 1/10 of a micron

Light source

low angle homogenous ring LED light

output light:  White and Red selectable

Stage

Szie: 297x210mm  With tiny holes so vacuum adjustment could be applied to document and make the document flat

Optics magnification setting

0.5X,1X,2X,3X,6X

Software

Signature Sampling area and stroke length selection

2-D image and 3D Sampling area display,  

Sampling length and points quantity selection

Signature Intersection area sampling removal 

Image stitching, rotation, indentation depth data curve and bar illustration

Indentation depth Excel data sheet along the sampling stroke length

Pearson correlation between questioned and  known signatures
Other Reference Materials
The Measurement Science and Standards in Forensic Handwriting Analysis Conference took place on June 4-5, 2013 at the National Institute of Standards and Technology (NIST) Campus in Gaithersburg, Maryland. The purpose of this free conference was to enhance the current state of forensic handwriting analysis through the use of advancements in measurement science and the latest research investments in quantitative analysis capabilities
https://www.nist.gov/news-events/events/2013/06/measurement-science-and-standards-forensic-handwriting-analysis
Click HERE to get Product list brochure.
Fingerprint & Shoeprint Science Product Brochure
---
Share this Product
---